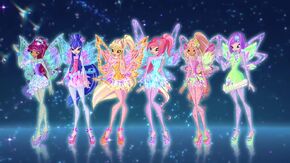 Tynix
is an alternative transformation that the Winx obtain in the seventh season, along with the
Butterflix
. This form was achieved thanks to the Fairy Animals, when they gave the Winx magical bracelets, with the power to reduce their size to a microscopic level, allowing the fairies to travel through magical and microscopic worlds known as MiniWorlds.
This transformation is somehow related with the miniaturization spell from their previous Enchantix powers. Due the ability to change sizes.
Appearance
Edit
Tynix fairies have pastel colored dresses, decorated with diamonds and pearls. Under the dress they has sleeves and thighs, both transparent and having the same color. The shoes also have diamonds and match the dresses regarding colors, the wings are medium-sized with gemstones inside as well in the edges. The hair acquires a lighter tone, along with some highlights and diamond decorations. The magical bracelets are always present on their right hands.
Community content is available under
CC-BY-SA
unless otherwise noted.