Previous Episode: Power Play
Next Episode: The Ultimate Challenge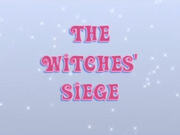 The Witches` Siege
is the twenty-fourth episode of
Season 1
of
Winx Club
.
The Army of Darkness lauches an attack on Alfea. Bloom is guided to Lake Fortresss of Light by a mysterious voice to get the power of the Dragon`s Flame.
Major Events
Edit
The good witches joins forces with the Fairies and Specialists to stop Icy, Darcy, and Stormy
Bloom heads to Lake Roccaluce following Daphne`s request while Sky heads to Magix
The Winx Girls defeat the Army of Decay
Icy, Darcy, and Stormy decide to take matters into their own hands
Characters
Edit
Bloom
Stella
Flora
Tecna
Musa
Faragonda
Griffin
Codatorta
Saladin
Riven
Sky
Brandon
Timmy
Icy
Darcy
Stormy
Army of Darkness
Community content is available under
CC-BY-SA
unless otherwise noted.