Previous Episode: The Ultimate Challenge
Next Episode: N/A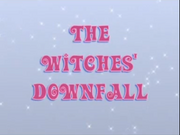 The Witches` Downfall
is the twenty-sixth episode and final episode of
Season 1
of
Winx Club
.
With the Army of Darkness launching its final attack on Alfea, Bloom and the other Winx girls face off against the Trix in the ultimate showdown to save all of Magix.
Major Events
Edit
Bloom squares off against Icy
Stella, Flora, Tecna, and Musa face off against Darcy and Stormy
Stella, Flora, Tecna, and Musa defeats Darcy and Stormy
Bloom successfully defeats Icy
Bloom and Sky imagines themselves having their first kiss
The city of Magix is revived
Miss Griffin takes measures to upgrade the evaluation process at Cloudtower
Headmaster Saladin receives word that the Council of Magix pledged funds to restore Red Fountain
Knut is made a resident ogre at Alfea
Mirta is an exchange student at Alfea
Icy, Darcy, and Stormy are sent to Light heaven, Pepe follows Icy
The Winx Girls have their first prom
Stella and Brandon start dating
Bloom and Sky start dating
Tecna and Timmy start dating
Musa and Riven start dating
Characters
Edit
Bloom
Stella
Flora
Tecna
Musa
Riven
Sky
Brandon
Timmy
Icy
Darcy
Stormy
Faragonda
Griffin
Saladin
Codatorta
Army of Darkness
Kiko
Pepe
Griselda
Knut
Mirta
Lucy
Community content is available under
CC-BY-SA
unless otherwise noted.