Previous Episode: The Font of Dragon Fire
Next Episode: Mission to Domino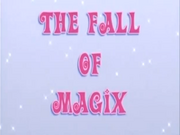 The Fall of Magix
is the ninteenth of
Season 1
of
Winx Club
.
Bloom returns to Alfea following the events on Earth. The Trix take control of Cloudtower and summon the Army of Darkness to take control of Magix.
Major Events
Edit
Icy, Darcy, and Stormy take over Cloudtower
Bloom is not scolded for running away
Miss Faragonda reveals the truth about Bloom
Icy, Darcy, and Stormy summons the Army of Darkness
The Winx Club have not forgiven Sky and Brandon for deceiving Bloom and Stella
Darcy dumps Riven because his usefulness has ended
Sky decides his friends are more important than his safety
Characters
Edit
Bloom
Stella
Flora
Tecna
Musa
Griselda
Faragonda
Icy
Darcy
Stormy
Knut
PePe
Griffin
Saladin
Prince Sky
Riven
Wizgiz
Palladium
Army of Darkness
Diaspro
Community content is available under
CC-BY-SA
unless otherwise noted.