Previous Episode: Mission at Cloudtower
Next Episode: A Friendship Sundered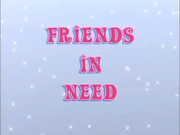 Friends in Need
is the seventh episode of
Season 1
of
Winx Club
.
After the events at Cloudtower, the Winx Club is punished with detention and the temporary loss of their powers. The Trix use this opportunity to attack.
Major Events
Edit
The Winx Girls throw a party while the rest of their classmates attend a concert
Tecna and Timmy are a couple
Mirta and Lucy appear for the first time
Darcy is attracted to the darkness in Riven`s heart, said by her to be almost equal to the darkness found in the heart of the Prince of Darkness himself. (the "Prince of Darkness" is revealed to be Lord Darkar in Season 2.) Icy says he will be useful in the future.
The Red Fountain Headmaster receives a letter of gratitude from Miss Faragonda (4Kids version)
The Witches return to Cloudtower with a letter of complaint (4Kids version)
The Winx Girls have their powers returned
Characters
Edit
Stella
Flora
Tecna
Musa
Kiko
Miss Griselda
Miss Faragonda
Miss Griffin
Icy
Darcy
Stormy
Lady
Cretan Minosaur
Riven
Prince Sky
Brandon
Timmy
Community content is available under
CC-BY-SA
unless otherwise noted.