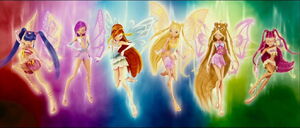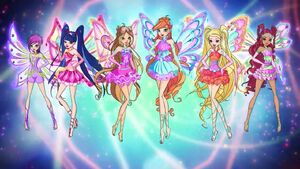 Enchantix
is ​​the third transformation for fairies in the animated series, Winx Club.
Requirements
Edit
In order for a fairy to earn Enchantix, she must make a major sacrifice for the well being of someone from her respective planet of origin. In this form, the powers of a fairy are very stronger, acquire the ability to be miniaturized and can break dark spells with fairy dust, which is contained inside a collar.
Fairies not always has to go to their respective planets to get their Enchantix, this was seen when Stella protected her father from a dragon in Eraklyon. Musa when she saved the Princess Galatea from a fire in Alfea and Tecna when she closed the portal of the Omega Dimension, located in the kingdom of Andros, but whose instability was a danger to the whole magical dimension, including her home planet Zenith.
Bloom was the exception to the rule. By believing in her power to overcome evil, learn to focus her energy with the sorceress Mya on Pyros and put aside the desire for revenge and anger that she was carrying. Bloom could transform by herself through force of will, also thanks that she found Buddy, her inner dragon.
Appearance
Edit
Enchantix fairies have a classic appearance, with bright dresses having contrasts of many colors, related each other. Barefoot sandals decorated with jewels. Also, they have bigger wings with jewels encrusted inside and others hanging in some extremes. Their hair grows longer and more elegant in appearance that can be decorated, braided, etc. In some cases, changes color or grows to a short length. Fairies can have a tiara or other elaborate jewelry. They also have a necklace or choker where is attached the bottle of fairy dust that can break evil spells.
Season 3

Season 8

Community content is available under
CC-BY-SA
unless otherwise noted.