Previous Episode: A Great Secret Revealed
Next Episode: Honor Above All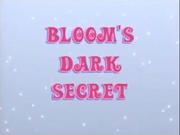 Bloom`s Dark Secret
is the fourteenth episode of
Season 1
of
Winx Club
.
Bloom`s curiosity about her past and magical powers begin to interfere with her confidience and she arranges to go to Cloudtower with the Winx Club and Brandon to seek the answers.
Major Events
Edit
Bloom passes her physical exam, showing her progress as a Fairy is going well
Bloom learns that she`s a witch but later learns that it`s a lie
Bloom and Brandon (Prince Sky)`s relationship takes a bad turn
Mirta leaves Cloud Tower
Mirta meets Bloom and the other Winx
Mirta is turned into a pumpkin by the Trix
Mirta is taken to Alfea
Characters
Edit
Bloom
Stella
Flora
Tecna
Musa
Faragonda
Griselda
Prince Sky (Brandon)
Brandon (Prince Sky)
Icy
Darcy
Stormy
Mirta
Lucy
Griffin
Community content is available under
CC-BY-SA
unless otherwise noted.