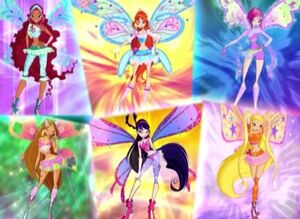 Believix
is an advanced transformation on the animated TV series, Winx Club.
Earning Believix
Edit
In order for a fairy to earn her Believix, she should get at least one person believes that the magic exists, as the Winx did with Roxy when she was in danger. Also, though unlikely without have Enchantix first, a fairy can get Believix by believing in herself, as Roxy did it when one of the Wizards, Gantlos hurt her dearest dog, Artu. When more people believe in the magic, Believix powers grow stronger.
A Believix fairy, can use three pairs of wings: Speedix, Zoomix and Tracix. Also can earn three gifs, given by the Ethereal Fairies, both of them, the Gifts of Wisdom and Heart, allows the access to two sub-transformations, Sophix and Lovix. The Sophix allows a fairy be in balance with nature and the Lovix allows a fairy survive in cold climates and blend with it. The third gift, the Gift of Darkness, does not give a transformation but allows revive someone.
Appearance
Edit
Believix is similar in style to the clothing that is typically used on Earth. Consists in stylized tops, skirts and pants, long socks, ruffled belts, boots and sandals similar to those used without being transformed. Also includes wristbands, bracelets and fingerless gloves. The wings are large and decorated with drawings related the power of each fairy. The hair is stylized, in some cases, in a similar fashion to Enchantix.
Community content is available under
CC-BY-SA
unless otherwise noted.