Previous Episode: Miss Magix
Next Episode: Bloom`s Dark Secret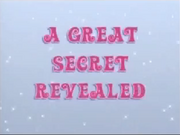 A Great Secret Revealed
is the thirteenth episode of
Season 1
of
Winx Club
.
Bloom returns to Earth during vacation and she casts her doubts on a pending business deal regarding her mother`s flower shop. In the b-story, Bloom discovers she can read people`s auras.
Major Events
Edit
Bloom obtains a new power: To see people`s innner thoughts and personalities as spirit forms
Bloom`s Magic has improved since she first arrived at Alfea
Bloom finds out that her mother`s future business partners are evil
Bloom has a vision of her mother`s flower shop on fire
Bloom learns that her father found her in a fire that she started
Bloom finds out that she`s not from Earth
Characters
Edit
Stella
Flora
Tecna
Musa
Mike
Vanessa
Mr. Bonner (Young)
Mr. Bonner (Old)
Mitzi
Bonner`s Driver
Community content is available under
CC-BY-SA
unless otherwise noted.